I got my inspiration for this "infant walking assistance" Here at
Make it and Love it.
I liked her idea, I just changed mine up a little bit. I did use her measurements. I used a buckle for the back instead of Velcro and used 2 straps to hold instead of 1.
Although my little porker is pulling up and walking a little while holding my hands I might have jumped the gun here. I will keep trying with her. Either way it will get a lot of use at some point.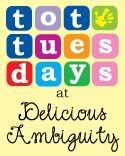 http://sumossweetstuff.blogspot.com/
" target="_blank">
http://i231.photobucket.com/albums/ee180/juliewuliee/Headers%202/sumo/marketyourselfcopy-1.png"/>