THE GIVEAWAY IS HERE!!

Ok, so I couldn't decided what to "giveaway", so I thought I would leave it all up to you!! With choices of course.
would you like one of these?

Or one of these?

I don't have it made since you all will be picking item, size, and colors!

How to enter:
1.Become a follower and leave a comment say what hat you would like or leave a comment telling me you are a follower already with the hat of your choice.
2.Blog about the giveaway.
That's it just 2 ways to enter the max of 2 entries per person.
Make sure you leave an e-mail address in your comment so I can contact you.
The give away will close Friday October 8th at 9pm.
Good luck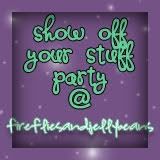 http://sumossweetstuff.blogspot.com/
" target="_blank">
http://i58.photobucket.com/albums/g241/summerandrus/Blog%20Graphics/marketyourselfcopy.png"/>